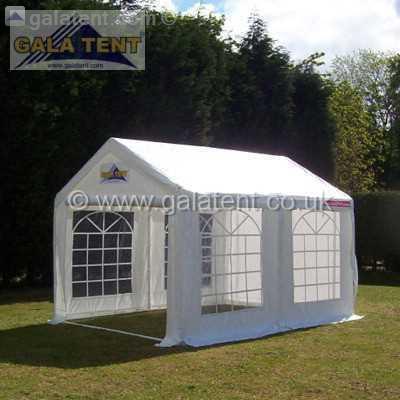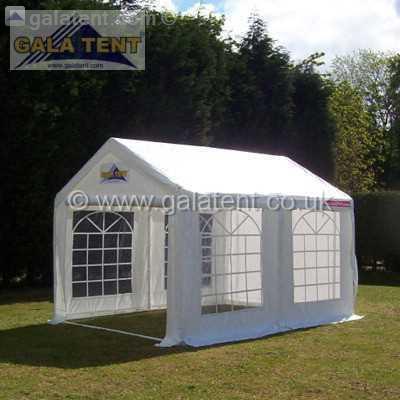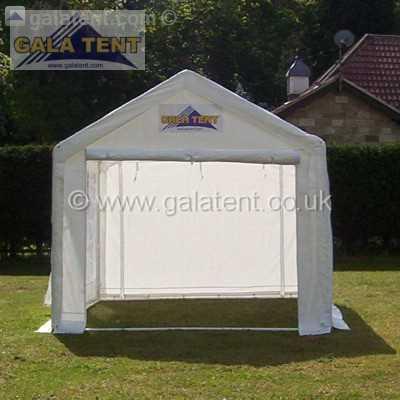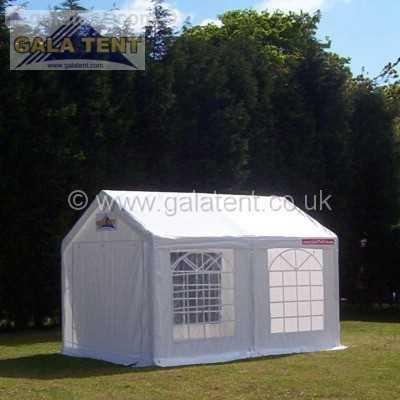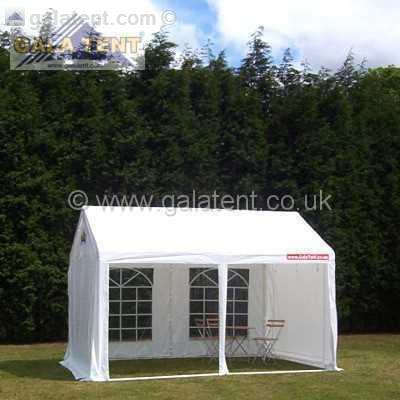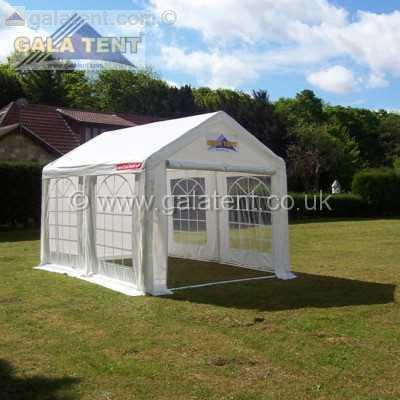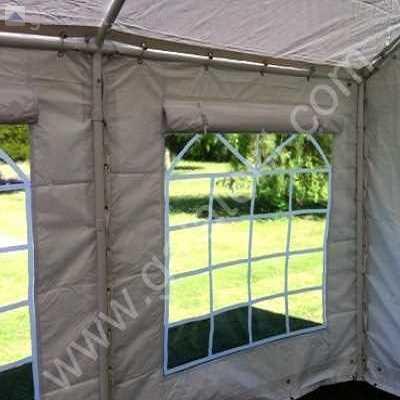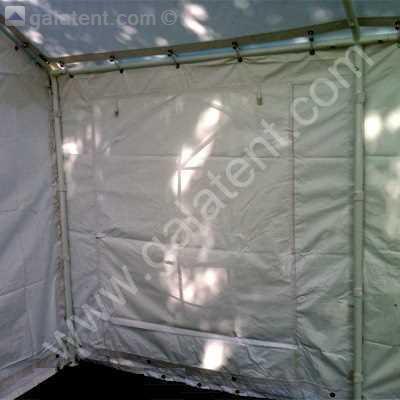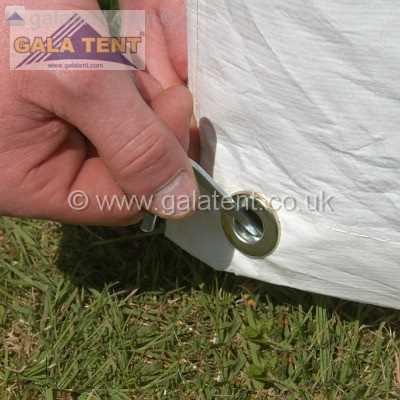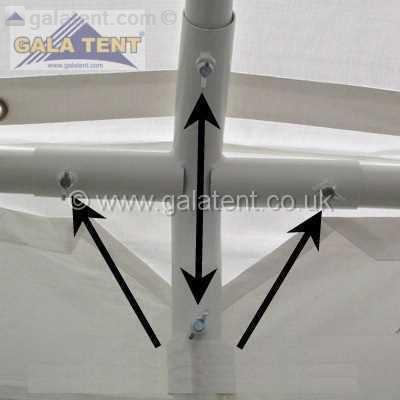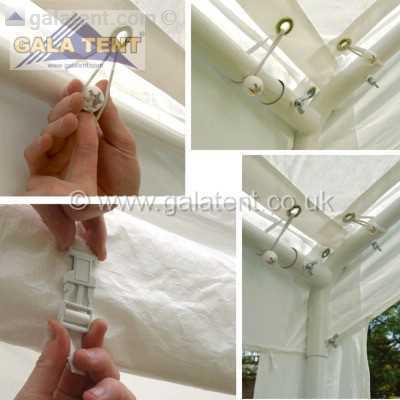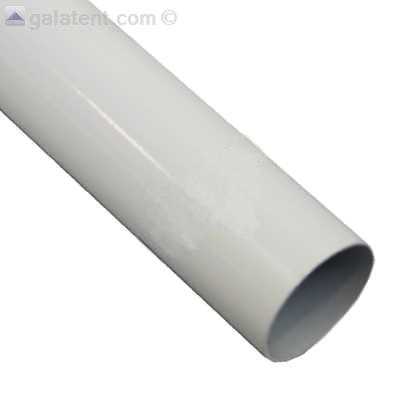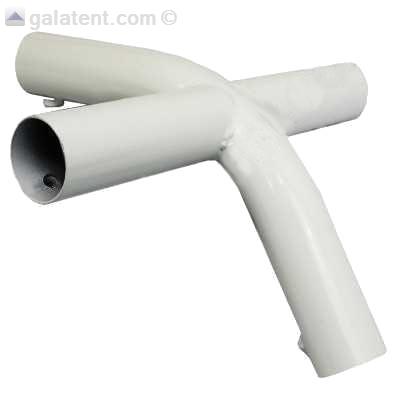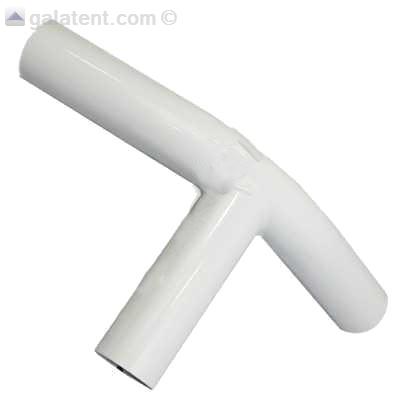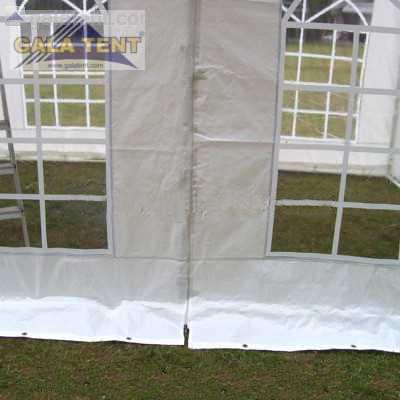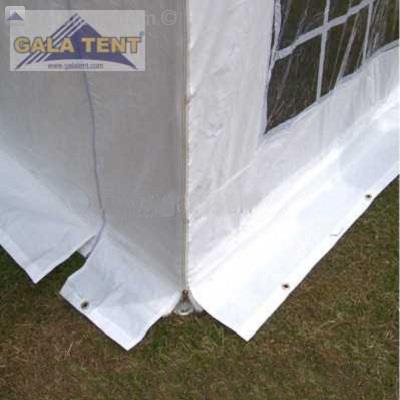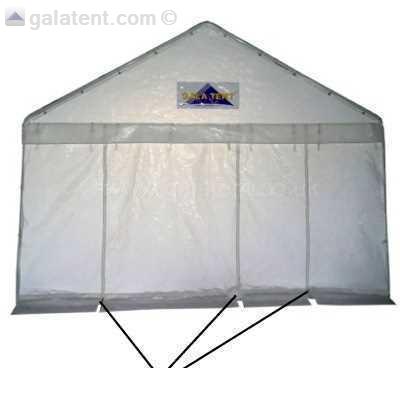 Afmetingen: 3m x 4m (3 x 4)
€334.

58
Inclusief 21% BTW
€276.
51
Exclusief 21% BTW
2 Werkdag(en) levertijd.
Verzending in heel Nederland voor slechts €14.99, naar België tijdelijk €29.99.
Omschrijving
Een instapmodel feesttent voor lichter commercieel en thuisgebruik, met een een goede balans van duurzaamheid, kracht en functionaliteit.
De tent kan op de meeste oppervlakken, zoals gras, beton en asfalt worden geplaatst.
Het frame is gemaakt van witte power- gecoate stalen buizen.
PE-materiaal is een Polyethyleen rip-stop geweven materiaal, dat is UV-gestabiliseerd en brandvertragend.
Ideaal voor:
tuinfeesten,
bruiloften,
festivals,
exposities.
Specificaties
De Gala Tent festtenten serie is gemaakt om lang mee te gaan.
We hebben hieronder de belangrijkste kenmerken van de Gala Tent vermeld, wij geloven dat deze kenmerken van onze Gala Tent feesttenten de meest duurzame tenten ter wereld maken.
240g PE commerciële kwaliteit covers
Britse brandwerende standaard BS 5438 en BS 7837
Heavy duty oogjes
Industriële ritssluiting aan alle zijpanelen
Buis wanddikte tot 1.2mm
Gepoedercoat kader
Georgische stijl venster panelen
Borgschroef op elke verbinding voor de stabiliteit en sterkte
Heavy-duty klittenband en bungee koord bandjes
Volledige instructies en verzorgings handleiding
Venster covers inbegrepen voor privacy
3 verschillende maten deuren in het eind paneel, voor multi gebruik
Afmetingen
Frame Maten
3m x 4m
Een sterk 38mm hol stalen frame and 44mm hoek stukken
Hoogte Maten
Doorloop Hoogte: 205cm
Nok Hoogte: 280cm
Deur Maten
Breedte 2.3m x Hoogte 2m
Aantal Personen
Standaard: 20
Ingericht met tafels: 10
Afmetingen van de verpakking
1 x Doos 199x16.5x13cm – Gewicht 15.2kg
1 x Doos 199.5x16.5x8cm – Gewicht 9.8kg
1 x Doos 59x46x15cm – Gewicht 11.25kg
1 x Doos 58x46x16cm - Gewicht 4.05kg
1 x Doos 60x48x8cm - Gewicht 5kg
2 x Doos 59x46x8cm - Gewicht 3.4kg
Totaal gewicht
: 60.
20
kg
Buying Guide
Why choose a Gala Tent Marquee
After over a decade of manufacturing marquees and meeting customer demands with specific product functionality, it is reasonable to say that a Gala Tent is among the best quality, value-for-money marquee available.We specialise in marquees and associated accessories, where as some suppliers only treat this as a supplimental product range. We are able to advise our customers based on a wealth of experience to find the right products.
We not only design and build our marquees, we also assemble components and modules to make a full structure at our headquarters in Britain.
The zips, material, framework and joints are engineered to a very high standard, while the steel framework is up to 1.2mm thickness. Compared to competitors who use 0.8mm steel to cut costs, our frameworks have superior stability, especially for our range of 6m marquees.
Gala Tents are also fireproof rated to British Standard requirements, BS 5438 + BS 7837 awarded after rigorous tests by Intertek. Without the fire certificate, an inferior marquee would be unable to be used at public events.
Gala Tent also supply a wide range of spare parts and accessories. You also have the option of purchasing specially manufactured optional equipment e.g. ground bars, ratchet tie down kits to add extra stability and strength as well as benefiting from the add on bay option to make your structure larger. Specially designed heating, lighting, lining and flooring is also available from the Gala Tent range.
Remember, It is not an Event without Gala Tent!
Reviews
Average Review Rating:
4.95 Uit 5
Datum/Tijd van de review:
10-08-2015
Naam Klant:
Mrs Heather Pooley
"MY GALA TENT IS GREAT I DONT HAVE A VERY BIG LIVING ROOM BUT LIKE TO ENTERTAIN MY FRIENDS HAVING MY GALA IS LIKE HAVING ANOTHER ROOM GREAT FUN"
Datum/Tijd van de review:
05-08-2015
Naam Klant:
Mrs Dorothy Nemenzo
"I bought it as i believed it looks durable. My gala tent is 4 years old now and still very tough and looks new."
Datum/Tijd van de review:
05-08-2015
Naam Klant:
Mr David Weeks
"We purchased two 3m x 4m Galatents 4 years ago and despite very regular use, they're still going strong, easily the best quality tents available within our budget!"
Datum/Tijd van de review:
05-08-2015
Naam Klant:
Mrs Wendy Mumford
"Perfect, very strong, I have left it up all through the winter"
Datum/Tijd van de review:
05-08-2015
Naam Klant:
Mr Keith Nicholas
"A great tent good in all weathers easy to put up and take down I use this most weekends during the summer and will be lost without it If your going to use it on hard ground get the ground poles for it Best purchase I have made for a tent"
Datum/Tijd van de review:
05-08-2015
Naam Klant:
Mr Stuart Green
"The 3m x 4m Gala Tent has proved extremely useful for our group. We use it for a fundraising cake stall at Tissington Well Dressings each year. This means it being left erected for 5 days, and it's often windy and rainy. The tent can be easily put up by 4 people, and the ground bars help to keep it in good shape. It always feels very sturdy and I never have concerns about it (whatever the weather). Compared to any other gazebos or tents, it is excellent quality and the fabric goes over easily. All in all, I would have no hesitation in recommending Gala Tents (indeed, I have done on several occasions). The tent was provided free by Gala Tent, which was very much appreciated, but having used it and seen the quality I believe that the list price represents good value for money. My review and recommendation of the product is not influenced by the fact that we were given the tent."
Datum/Tijd van de review:
04-08-2015
Naam Klant:
Mr Henry Sandbach
"Very good!"
Datum/Tijd van de review:
04-08-2015
"We have used this twice, most recently on May Bank Holiday when the weather was atrocious! It was a bit of a challenge to put up as it was very windy, and our fingers got very cold pulling the bungee ropes. However it withstood the weather and gave very welcome shelter! I have since laminated the instructions to make them easier to use in bad weather. The video was very helpful to remind us how to put it up, it is very sturdily built and the extra guy ropes are very useful. I would definitely recommend it, but try to put it up in less windy weather if you have a choice! Storage bags have protected it well and it looked as new when we put it up after 3 years in store."
Datum/Tijd van de review:
04-08-2015
Naam Klant:
Mr Mark Milligan
"A great unit purchased for a special event but have since used in all weathers since. "
Datum/Tijd van de review:
04-08-2015
Naam Klant:
Mrs Julie Poole
"Great Service getting spare parts "
Datum/Tijd van de review:
04-08-2015
Naam Klant:
Mrs Anita Wainwright
"Makes a perfect workshop for when we're away at race meetings."
Datum/Tijd van de review:
28-07-2015
Naam Klant:
Mr Mark Jones
"Bought becasuse of the window blanking panels supplied free and the ratings by other customers"
Datum/Tijd van de review:
12-02-2015
Naam Klant:
Mr David Smith
"Just bought a 3 x 4 marquee, am really pleased with it. Was really easy to erect and we couldnt believe how big it was inside. Leanne was very helpful and patient when we called in to collect it. We have now bought a heater which is excellent, it was lovely and warm even in this weather. Cant wait for first BBQ of the year. Would recommend gala tents to anyone who wants a good quality marquee. Would never go back to buying cheap superstore gazebos again. Thank you once again for excellent service."
Datum/Tijd van de review:
08-10-2014
"I had been using a cheap gazebo for a while to another trader told me about gala very pleased I took website and ordered mine very stable in wind was out in heavy rain and it with stood it compared to one of the other traders who had a cheap one overall very pleased with it part from tiny thing one of the connectors threads weren't tapped to accept bolt easy fix "
Datum/Tijd van de review:
06-10-2014
"Thank you so much. Your praises are continually sung by the tent when up by its very presence - and obviously amplified by me!!"
Datum/Tijd van de review:
03-06-2014
Naam Klant:
Mrs Karen Ross
"We used our gala tent on Saturday night for my daughters 30th birthday party. It was used as an addition to my garage between the two areas it accommodated 30 people. We found it very easy to go up and very sturdy once it was up. It was heavy rain on Friday and Saturday and I am delighted to say my guests were warm and very dry. The design is very good so easy to put together and well made. I am really pleased with our purchase. I have bought a pop up gazebo in the past and it was so hard to put up and no good in the wind or the rain, a waste of money. I feel the gala tent has been good value and will last a long time. "
Datum/Tijd van de review:
03-06-2014
"I have bought two Gala tents as I sell at shows throughout the UK. Obviously I would not have purchased a second tent if I had not been pleased with my first tent. These tents are so easy to erect, very strong, waterproof and built to last. Excellent value. Communication, ordering and delivery all first class. If I ever need another I will definitely buy a gala tent again."
Datum/Tijd van de review:
10-02-2014
"Your salesperson was very knowledgable about the product,I was told I could book a delivery date of my choice even though it was a few weeks away. The tent arrived by courier on the arranged day, it was extremely well packed and on opening the boxes everything was in order. As with anything ordered on the internet you can never be 100% sure what you will receive,but I can honestly say this is a very impressive product everything is very well made.Thank you for excellent service"
Datum/Tijd van de review:
07-08-2013
Naam Klant:
Mr Peter Hardaker
"As you're probably aware we've been down today and picked up the side panels. The panels are the right shade of white and match the rest of the marquee. You've now got two happy customers. Thank you to you and Laura for your understanding and help in getting everything sorted - the customer service you've provided has been excellent, very best wishes, "
Vergelijkbare producten
Niet de kleur die u zocht? Kijk dan naar deze aanverwante producten